The MiniFuse USB Hub is a USB-2 type A port. It is located on the back panel of the interface.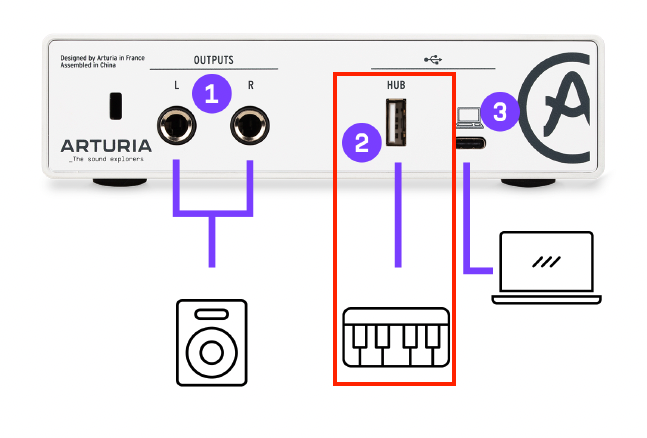 The MiniFuse Hub provides up to 250mA current with 5V of supply voltage.

This makes it suitable for connecting equipment like MIDI controllers, USB keyboards, iLok / eLicenser dongles, and portable drives.

Ensure that your device doesn't draw more than 250mA. If you can't find the information on the device, please reach out to the brand or the reseller.
The MiniFuse requires more than 250mA current to operate, so multiple units cannot be daisy-chained through the Hub port.

Please connect any additional units directly to your computer, or through a powered USB hub.

Note: even when the different MiniFuse units are directly connected to your computer, you cannot chain them and make an aggregate device in your DAW to use their inputs and outputs at the same time.
This message means that too much power is drawn from either the MiniFuse USB Hub and/or your computer USB-port.

In the first case, if a device is connected to the MiniFuse USB Hub, ensure that it doesn't draw more than 250mA.

If you can't find the information on the device, please reach out to the brand or the reseller.

If you made sure that your device needs less than 250mA, and that it still doesn't work, it might be because:


some "low-power devices" have a high-consumption peak when starting up. Try to first connect your MiniFuse, wait a few seconds and then connect your device to the MiniFuse USB Hub.
some MIDI controllers have a low-power mode that reduces the current that they draw. Sometime this mode has to be activated with a companion software.


If your MiniFuse is still not recognized, unplug your MiniFuse, re-start your computer and plug your MiniFuse back again.

You can also try to connect your MiniFuse to different USB ports of your computer (USB 2.0, USB 3.0...), to a different powered USB Hub.

Finally, when using a desktop computer, you can also try connecting the MiniFuse to the back panel USB ports.

If the issue still persists, try connecting the audio interface to a different computer to identify a potential issue with the MiniFuse itself.

If none of the solution above is working, please contact Arturia Support.
---
If you have any further questions, feel free to
contact us
.
---