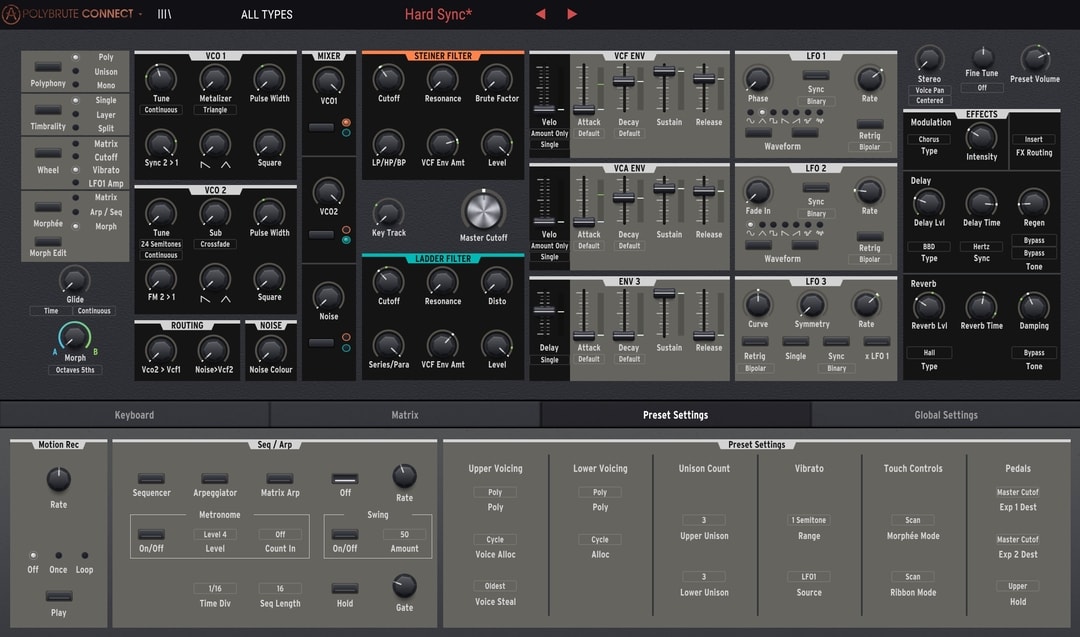 PolyBrute Connect is the comprehensive and
full-featured editor-librarian software
for the PolyBrute.
It offers
two-way communication
between the hardware controls and the software, letting you use the PolyBrute within a DAW
as though it were a plug-in
.
There is also extensive patch management, the ability to
update the PolyBrute firmware
, and much more.
Register your product
First, create an account and/or log into the Arturia Website.
Then, access to "My account" page.
Then click on the "Register New Product" button.
Finally, enter the serial number and the unlock code of your PolyBrute, which is shown on a card enclosed in the box, and on a sticker on the bottom of the synthesizer.
Download and install the Arturia Software Center (ASC)
Download the ASC and install it.
Launch the ASC and log into your account.
Download and install the PolyBrute Connect
In the "My Products" tab you will find the "PolyBrute" product. Click on the "Activate" button and wait for a few seconds.
Click on the "Install" button, and wait for the PolyBrute Connect to download and install.
VST on macOS and Windows, Audio Units on macOS, and AAX (for Pro Tools) on macOS and Windows.
The download also includes a stand-alone version for macOS and Windows.
If you are operating under
Windows 7 or Windows 8
, the latest driver provided along with PolyBrute Connect 3.0
may not be compatible
with your operating system. As a result, it might not install at all, or it might not work as intended.
To download the correct USB MIDI driver for PolyBrute 3.0 on Windows 7/8
, please go to the
Resources page of the PolyBrute
on our website.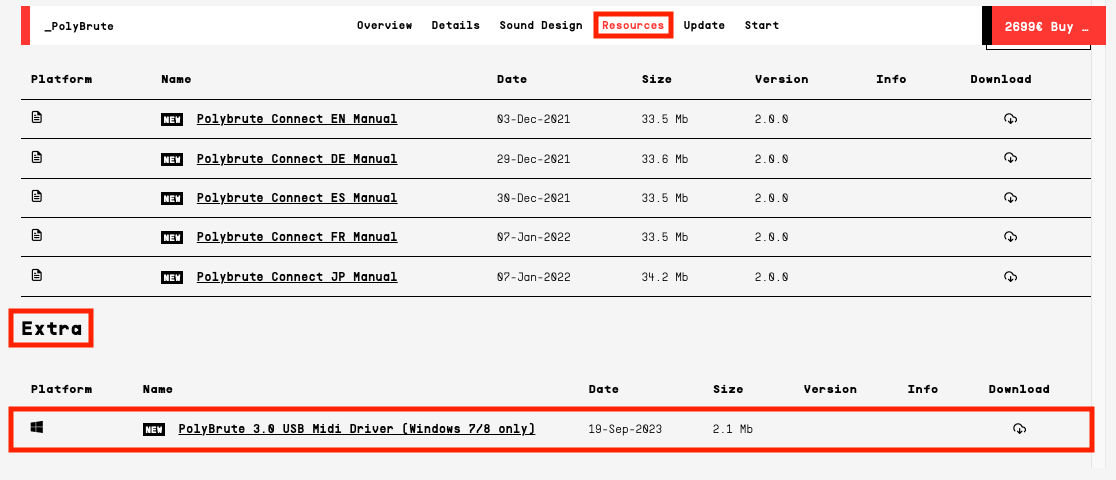 When using PolyBrute Connect, MIDI channels will be always forced to channels 1 & 2, respectively for Upper and Lower parts. This ensures a proper recording and playback of splits presets.

Make sure to adjust your setup accordingly to keep these channels for the PolyBrute Connect communications.

Alternatively, using MIDI tracks, closing PolyBrute Connect (as a standalone), and removing it from any tracks (as a plug-in), will allow you to use other MIDI channels if required.
---
If you have any further questions, feel free to
contact us
.
---